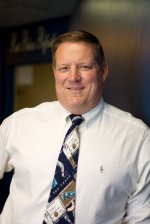 The Doctor
Jeff Haynes, D.C.
He was born and raised in Bakersfield. He attended Bakersfield high school and Bakersfield College before moving to CSUN for his undergraduate degree. He attended Cleveland Chiropractic College and received his doctorate in 1991. He returned to Bakersfield in 1992 and worked as an associate before starting Haynes Chiropractic in 1995.
He is certified by the National Board of Chiropractic Examiners and has completed many post graduate-courses. He completed a one year course on sports injuries that emphasized the treatment and management of athletes. He was certified in the Cox techniques that treats the lumbar spine for disc herniations with disc decompression. He has completed the courses for Industrial Disability Examiners and in A.M.A. Disability Evaluations. He became a fellow of the Academy of Forensic and Industrial Chiropractic Consultants in 2006. He completed an intensive course in animal chiropractic and was certified by the American Veterinarian Chiropractic Association in 2006. He is currently working on a Performance Enhancement Specialist certification that emphasized rehabilitation, reconditioning and performance enhancement. Individualize integrated training programs to keep their athletes performing at the highest level.
Dr. Haynes began working with youth sports in 1992 and has worked as a team doctor for various high schools since that time. In 1999, he became the team Chiropractor for the Bakersfield Condors professional hockey team and has continued for the past 9 years. In 2005, he became the team chiropractor the Bakersfield Blitz Professional Arena Football for 2 years before the team dissolved.
Shujuan "Sharon" Zhang, Ph.D., L.A.C.