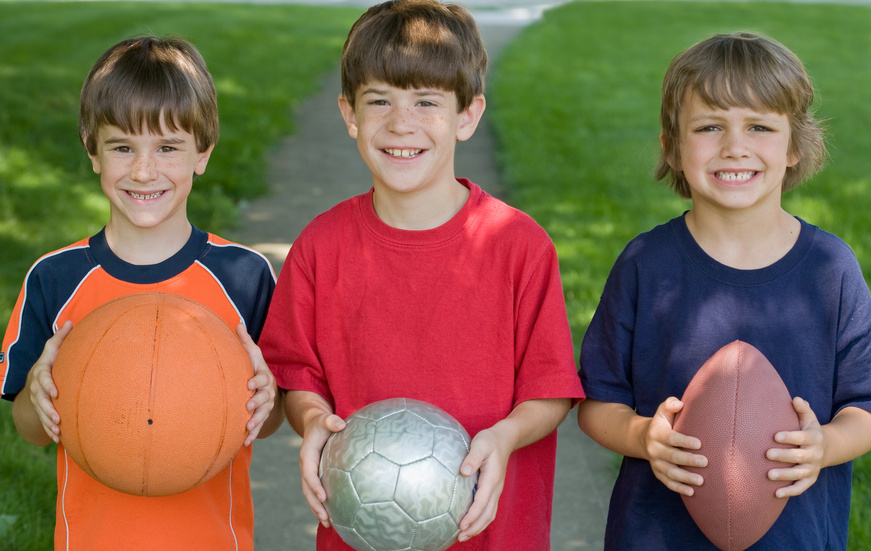 Sports injuries are injuries that occur in athletic activities. They can result from acute trauma, or from overuse of a particular body part.
Classification
Traumatic injuries account for most injuries in contact sports such as Ice Hockey, Association football, rugby league, rugby union, Australian rules football, Gaelic football and American football because of the dynamic and high collision nature of these sports.[citation needed] Collisions with the ground, objects, and other players are common, and unexpected dynamic forces on limbs and joints can cause injury.
Traumatic injuries can include:
Contusion or bruise – damage to small blood vessels which causes bleeding within the tissues.
Strain – trauma to a muscle due to overstretching and tearing of muscle fibers
Sprain – an injury in a joint, caused by the ligament being stretched beyond its own capacity
Wound – abrasion or puncture of the skin
Bone fracture
Head injury
Spinal cord injury
In sports medicine, a catastrophic injury is defined as severe trauma to the human head, spine, or brain.
Concussions in sport became a major issue in the United States in the 2000s, as evidence connected repeated concussions with chronic traumatic encephalopathy and increased suicide risk.
Overuse and repetitive stress injury problems associated with sports include:
Runner's knee
Tennis elbow
Tendinosis
Some activities have particular risks:
Bicycle safety
Gun safety
Sailing ship accidents
Skateboarding
Soft tissue injuries
When soft tissue experiences trauma, the dead and damaged cells release chemicals, which initiate an inflammatory response. Inflammation is characterized by pain, localized swelling, heat, redness and a loss of function. Small blood vessels are damaged and opened up, producing bleeding within the tissue. In the body's normal reaction, a small blood clot is formed in order to stop this bleeding and from this clot special cells (called fibroblasts) begin the healing process by laying down scar tissue.
The inflammatory stage is therefore the first phase of healing. However, too much of an inflammatory response in the early stage can mean that the healing process takes longer and a return to activity is delayed. Sports injury treatments are intended to minimize the inflammatory phase of an injury, so that the overall healing process is accelerated. Intrinsic and extrinsic factors are determinant for the healing process.
Treatment
Sports injuries can be treated and managed by using the P.R.I.C.E.S… DR. ABC, and T.O.T.A.P.S regimes:
| | | | |
| --- | --- | --- | --- |
| P – Protect R – Rest I – Ice C – Compression E – Elevation S - Stabilize | D – Danger R – Response | A – Airway B – Breathing C – Circulation | T – Talk O – Observe T – Touch A – Active movement P – Passive movement S – Skills test |
The primary inflammatory stage typically lasts around 5 days and all treatment during this time is designed to address the cardinal signs of inflammation – pain, swelling, redness, heat and a loss of function. Compression sportswear is becoming very popular with both professional and amateur athletes. These garments are thought to both reduce the risk of muscle injury and speed up muscle recovery.